According To Ratings, Chelsea Players Dominate Best New Signings Xi In 2020/21 Premier League Season
According to Performance ratings, we have drafted a team with the best new signings in 2020/21 premier league season.
Goalkeeper: Emiliano Martinez.
Centre defenders: Fofana and Thiago Silva.
Fullbacks: Cash and Ben Chilwell.
Defensive Midfielders: Allan and Hojbjerg
Offensive midfielder: Lookman.
Forwards: Ole Watkins.
Left and right wingers: James Rodriguez and Timo Werner.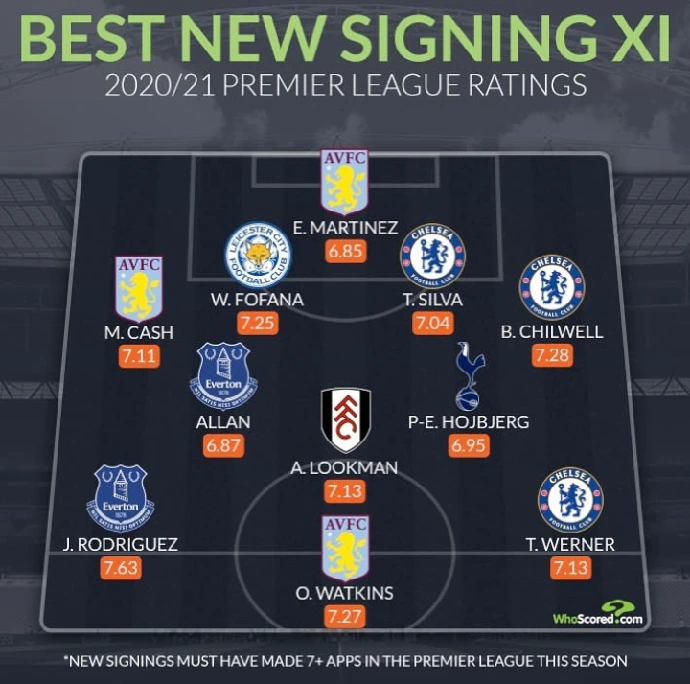 Chelsea players dominated the team, they have three players in the team,while Aston Villa Also Have three players in the team. But it is chelsea players that have a better ratings than Aston Villa players. Chelsea currently sits amongst the top five clubs on premier league table. We could see more chelsea players join the team before the end of the season.
Manchester united new signings like Alex Telles, Cavani, Van de beek didn't make the team. Likewise veteran tottenham players like Doherty, Reguilon and Bale. The surprising name that was omitted in the list was Diogo jota. He have been on a scintillating form for the merseyside reds since he moved from Wolves.