ARSENAL 2 -2 RANGER : Match Analysis as Arsenal are held to a draw versus Rangers
The gunners rounded off their preseason games in Scotland today, as they played the second Scottish team on their list (Rangers FC). Following a 2-1 loss to Hibernian, it was everyone's hope that Mikel Arteta and his boys would beat Rangers mercilessly to show their superiority from the premier league, however,the reverse was the case as a lucky deflection helped Arsenal secure a draw from a game they completely dominated.
If you ask what went wrong for Arsenal today, the answer would be no different from what it was last season, as their captain and star striker Pierre Emerick Aubameyang missed several chances that should have easily seen them win the game if he had scored from those chances. This article is focused on analyzing the ups and downs of this draw, from an Arsenal point of view.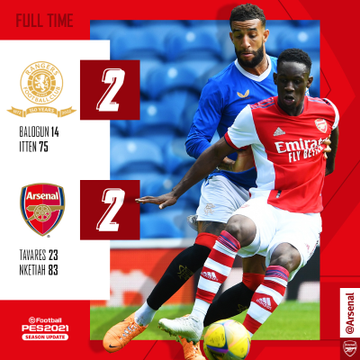 SELECTION PROBLEMS/FORMATION ERRORS:
Mikel Arteta had some selection headaches coming into this game as most of his first team players were not available for selection. However this is no excuse for the loss except for the fact that, the two goals scored would have been saved if an experienced goalkeeper was played. Bernd Leno has not returned from his holiday with the German team, and so Arteta had to play two academy goalkeepers against the champions of Scotland. The two young goalkeepers made only one save (a combined statistics), compared to the 7 made by the Rangers goalkeeper alone.
MIDFIELD CHAOS:
Arsenal's midfield was very dull and uninspiring today, as they failed to create any chance through the middle. They were so slow to making their passes, and lost the ball too frequently. Elneny and Partey had a decent run for some minutes in the first half, but sadly not up to the standard required for a professional premier league midfielder.
LACK OF GOAL THREAT:
Arsenal have started this season without making any changes to their forward line, and this may be their downfall for a third consecutive season, as the likes of Aubameyang and Lacazette did not show any quality at all while on the ball. Aubameyang missed three clear chances, instead an easy tap-in from the tip of the post. It's sad to see how bad they are, and if this problem is not rectified Arsenal would suffer next season.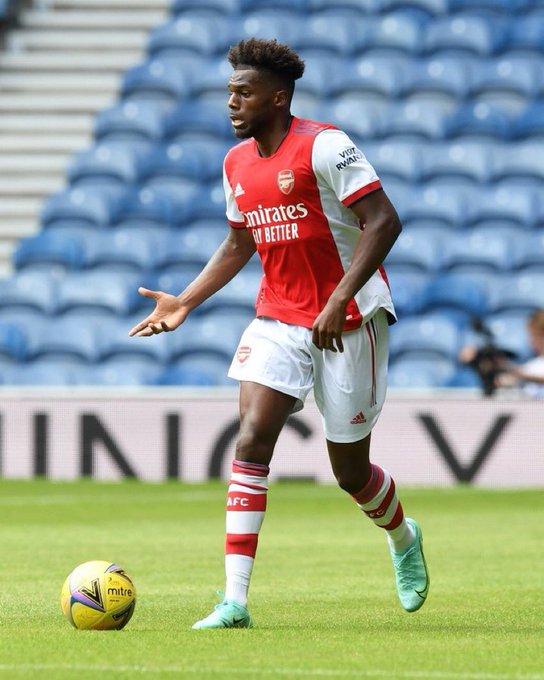 Nuno Tavares had a decent game as the left back in the first half, as he scored a sublime shot with his right foot on his Arsenal debut. It would be interesting to see how Arteta would treat him and Kieran Tierney as the season progresses.