As Chelsea Top Group's Table, See The Tough Teams Chelsea Could Face In The UCL Round Of 16
Chelsea celebrates as they came first on the group E of the UEFA Champions League which they belong, among Sevilla, FC Krasnodar and Rennes.
Chelsea emerged as the first position with 14 points in the group E table.

It has been generally believed that in the UEFA Champions league, the best position to finish as a team is the first position. Well, this is true because you will be on a safer side, but this isn't so anymore in the world of football today.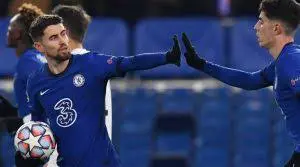 Chelsea might have emerged the first position and be relaxed expecting a team in the second position in another group, this may may too dangerous for them.
Chelsea However,will face any of the teams to be listed below in the next round (round of 16) of the UEFA Champions league Competition.
In the list below we have big teams, and tough teams (both terms are different). Some teams tend to be tough when they meet certain teams, and his may be the case for Chelsea if they're too relaxed; the teams include:
Barcelona, Paris Saint-Germain (PSG) or Leipzig, Atletico Madrid, FC Porto, Atalanta, and Shakhtar Donetsk.
These above mentioned teams are second positioned on their group's table, and Chelsea will be facing one of them by December 14, when the draw for the round of 16 is out.
Which of the listed teams can Chelsea Defeat Anytime?
Will any of these teams be difficult for Chelsea to defeat?