As Mbappe turned 22 yesterday, see what he has achieved compared to Ronaldo & Messi during that age.
Congratulations to Kylian Mbappe as he turned 22 year-old yesterday, 21st December, 2020.
Before he turned 22, the Frenchman has been made incredible achievements in the professional football career. Some of these achievements makes him worthy to be compared with the likes of Ronaldo and LionelMessi when they were 22 years of age.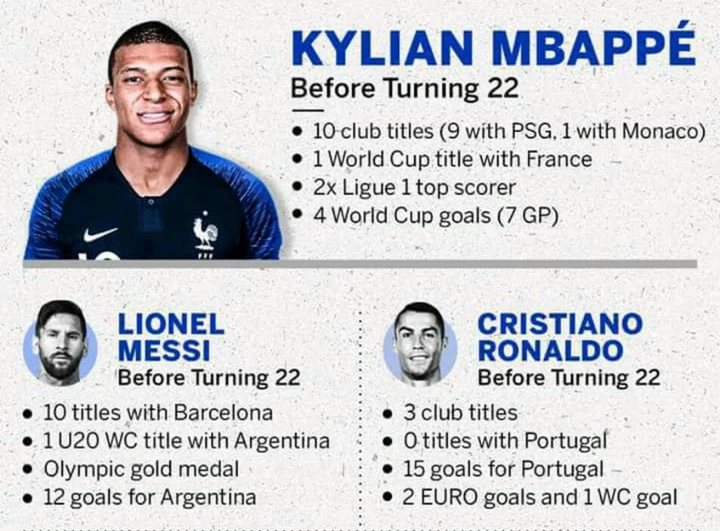 Kylian Mbappe:
Before turning 22, the PSG forward has obtained 10 titles (9 for PSG and 1 for Monaco). He also has 4 World Cup goals and a World Cup title with France. These are achievements that we seldom see in football before a player turns 22.
Nevertheless, the following players have obtained accolades like that before turning 22.
Lionel Messi
The Argentine before turning 22 had:
1. 10 titles with Barcelona
2. 12 goals for Argentina
3. An Olympic Gold medal
4. 1 U20 World Cup title with Argentina
Cristiano Ronaldo
The Portuguese and Juventus forward had gotten the following achievements before turning 22:
1. 3 Club titles
2. 2 EURO goals and 1 World Cup
3. 15 goals for Portugal with no title for Portugal.