Chelsea are good, but not great. How can Lampard unlock the potential of Werner, Pulisic & Co
Injuries to Ziyech and Christian Pulisic, among others, allowed Lampard to spread the minutes around to attackers, and lots of players have done well in smaller samples. Striker Tammy Abraham has scored five goals with four assists in just under 700 minutes, winger Callum Hudson-Odoi has scored three times and created nine chances in just over 500 minutes, and veteran striker Olivier Giroud, limited to just 178 minutes in all competitions, has still scored twice and created four chances.
Both Hudson-Odoi and Giroud scored against Rennes on Tuesday, which affirmed both how many strong attackers the team has and how tricky minutes distribution will be when everyone is fully healthy.
Defensively, it's almost exactly the same story. The Blues are fifth in the Premier League in shots per possession allowed (0.11) and a solid third in opponents' average xG per shot (0.11). In the defensive chart below, where the bottom left is the best place to be, you can see that they're doing quite well over a wide swath of leagues.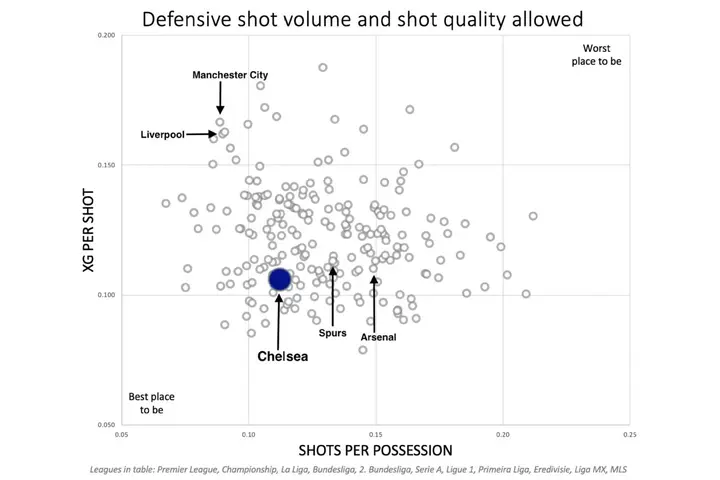 Chilwell has been as good as advertised, while central defender Kurt Zouma's play has been outstanding despite a rotating cast of characters next to him (Silva, Andreas Christensen, Antonio Rudiger). When the 36-year-old Silva is in the lineup, his vocal presence is noticeable; it might bear mentioning that Chelsea have allowed just four goals in his nine appearances, and three came early on against West Brom.
Midfielders Mason Mount and N'Golo Kante have played a clear role here, too. Mount has been key to the defense-to-offense transition, and Kante is a one-man counterattack destroyer. That he has been healthy so far this season, after injuries tamped down his form last season, has made a massive difference.
Meanwhile, Mendy has been a definitive improvement over Kepa Arrizabalaga, who continues to battle one of the most high-visibility crises of confidence you'll ever see. To date, those track meets against West Brom and Southampton appear to have been outliers.
On average, the offense has been fine and the defense has been good. Only that doesn't tell the whole story.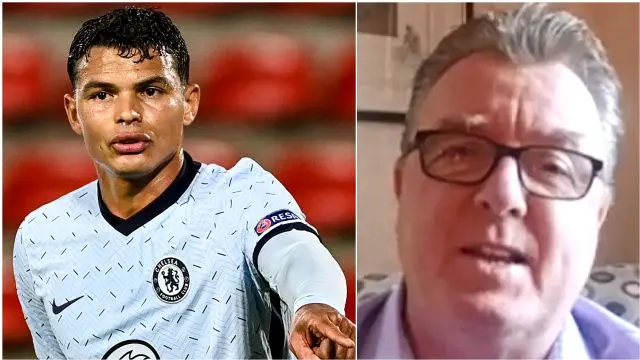 Steve Nicol praises Thiago Silva's impact on Chelsea's defense, and calls out Timo Werner's miss vs. Rennes.