Chelsea Managers With Fewest Goal Conceded After 50 Games In Charge From 2000
Since the Roman Abrahimovic era started in 2003, Chelsea have had some top class managers in their rank.
Starting from Claudio Renieri, Jose Mourinho, Luiz Flipe Solaria, Avarm Grant, Carlo Ancelotti, Maurizio Sari, Antonio Conte and others.
It is so unfortunate that not all these coaches were able to manager Chelsea for a long time due to poor performance by their team.
Some of those managers have gone on to write their names in gold in the history of the club. As a matter of fact, some of them will never be forgotten by the club fans across the world.
Here I will present to you Chelsea Managers with 50 games in charge and the number of goals conceded.
Antonio Conte, 49 goals
The Italian days with Chelsea was characterised with touchline drama from the Italian way of celebrations.
In his days also, Chelsea were a free scoring team but they were also shipping in goals at will. That saw his Chelsea's team conceded 49 goals in 50 matches.
Maurizio Sari, 46 goals
When Sari took over from his country man Conte, many had thought there will be a lot of difference in terms of shipping in goal, unfortunately there was no much difference between Antonio Conte team and Sari team. After 50 games in charge of the blues, Sari conceded 46 goals, just three goals better than Conte.
Carlo Ancelotti, 44 goals
The third Italian manager on the list is currently Real Madrid coach Carlo Ancelotti. His Chelsea team was free scoring team but were also shipping in goals at will. The Italian Chelsea's team conceded 44 goals after 50 games in charge.
Avarm Grant, 32 goals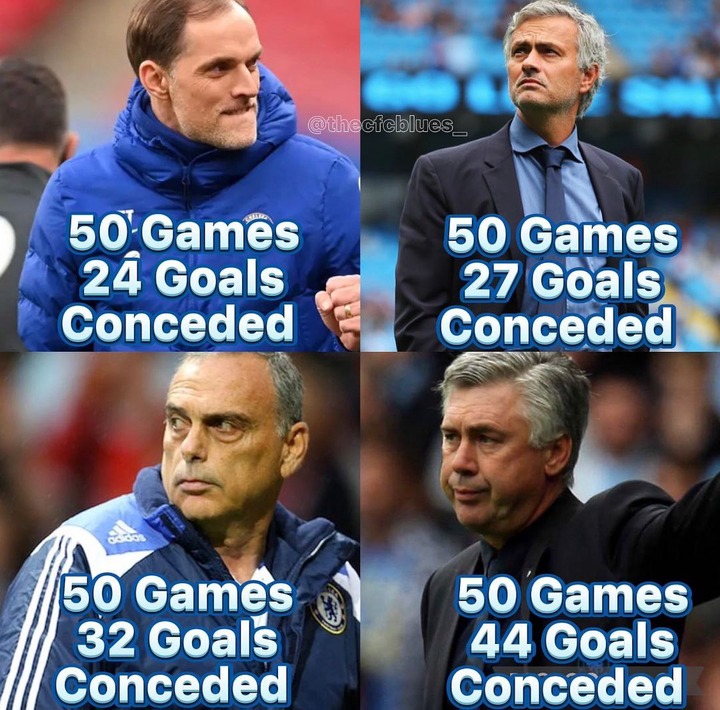 Chelsea lost the league title to Manchester United by just two points in a season that saw the title challenge go down to the final day.
After that impressive work as an interim manager, Avarm Grant was give the full time appointment as Chelsea manager. After 50 games in charge of Chelsea, he conceded 32 goals.
Jose Mourinho, 27 goals
This man need no introduction at all. He played a major role in making Chelsea a force in the premier league and in Europe. After 50 matches he conceded just 27 goals.
Thomas Tuchel, 24 goals
Another person who doesn't need an introduction at all. Still in charge of Chelsea and after 50 games and still counting, he has conceded just 24 goals and that makes him the manager with the fewest goals conceded after 50 games in charge of Chelsea.