Chelsea Next 7 Games This Month, How Many Of The Matches Will They Win
Chelsea football team is doing great of recently, what they have achieved is great and believe me they are doing everything possible to reach a greater heights.
Let see some of their fixtures for the month of February and see how many matches they can win from it.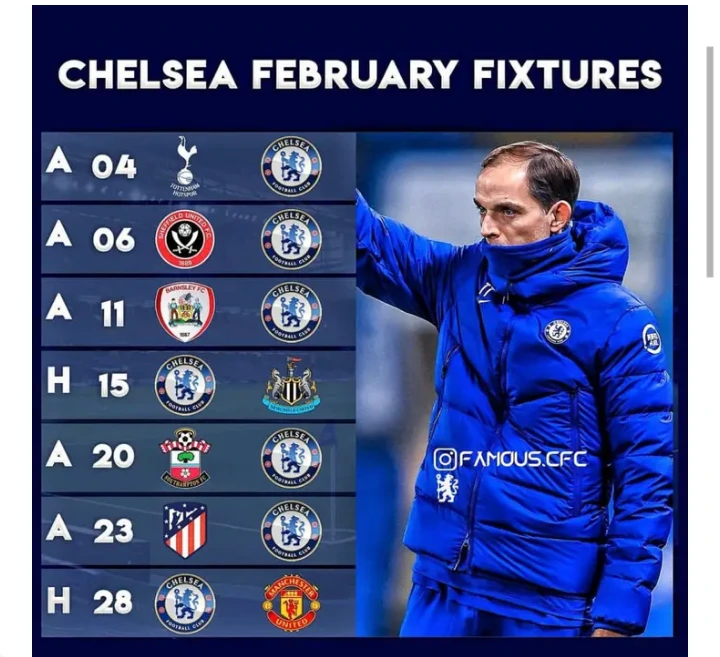 Chelsea came out victorious at the last match as the Beat Burnley 2-0 at Stamford bridge to end last month on a high, this month will see Chelsea play tough matches including the Champions League match with Athletico Madrid, let's see the next seven games Chelsea will play this month. They will be playing Tottenham in away games, Then after they will play Sheffield United at away.
The next will be against Barnsley and this will be their Fa cup match clash, the next one will see them hosting Newcastle at Stamford bridge, Then after that match they will travel away to face Southampton, then their next match will be against Athletico Madrid playing them away in their first leg of champions league game, then Finally they will welcome Manchester United at Stamford bridges.
Chelsea has light fixtures with them facing 3 hard opponent out of 7, their greatest challenge in the premier league will be tested when they visited Tottenham during their next match and Their first leg playing against The high flying ATM on Their home turf.