Chelsea, PSG, Bayern Munich And Barcelona's Strongest Attack If They Sign Ronaldo This Summer.
Recently, Cristiano Ronaldo asked to leave Manchester United if the club receives a satisfactory offer for him this summer, and that decision reveals that the Portuguese striker intends to leave the club. Thus, after revealing his decision, different clubs across Europe have shown interest in the player.
Being among the greatest players the world has ever seen, Cristiano Ronaldo will be a great addition to some clubs in Europe, and he would be able to create astounding records in any club he joins.
Based on the recent transfer news, some of the clubs that are interested in him are Chelsea, Inter Milan, PSG, and Barcelona, amongst others. Although, there's an initial rumour that Bayern Munich is interested in signing the Portuguese, however, the management of the club has just revealed that they won't be signing the Portuguese, because he's out of the club's philosophy.
Regardless of that, signing a player like Cristiano Ronaldo and adding him to the squad will improve the team's strength, and more precisely, the team will be stronger.
Given this, we will be seeing the strongest attack that some of these clubs will have if they sign Cristiano Ronaldo this summer.
Worthy of note, only one of the above-mentioned clubs can end up signing Cristiano Ronaldo, provided he leaves Manchester United this summer, and that means he cannot join more than 2 clubs at a time. However, we will be looking at the potential attack for each of these clubs if any of them end up signing the Portuguese.
1. Bayern Munich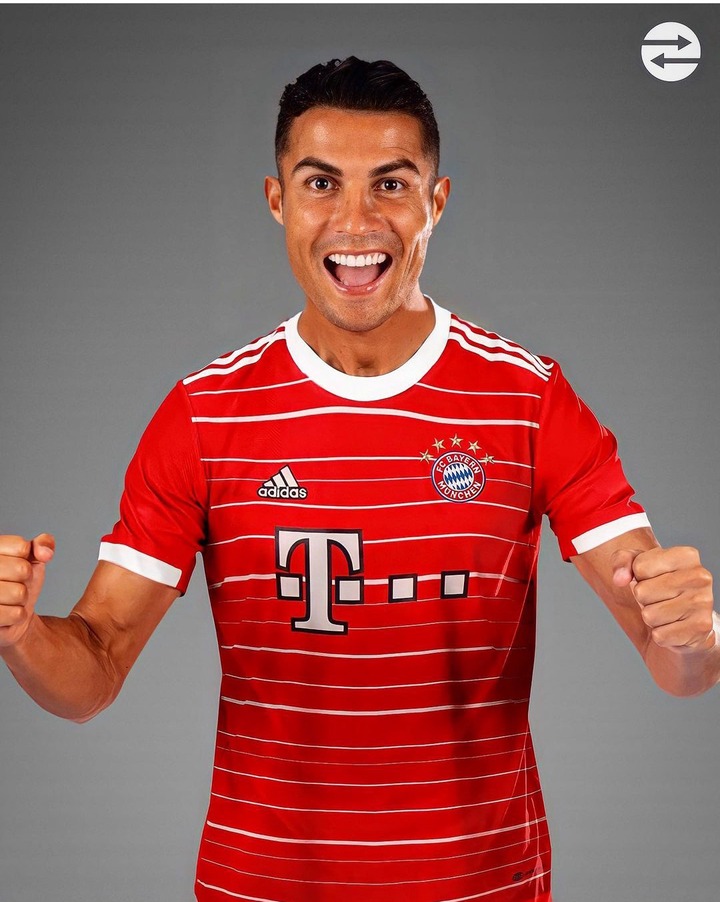 Considering that Bayern Munich has recently completed the deal with Sadio Mane, then, the possible attack for the club if they sign Cristiano Ronaldo will be: Sadio Mane, Cristiano Ronaldo and Kingsley Coman.
2. PSG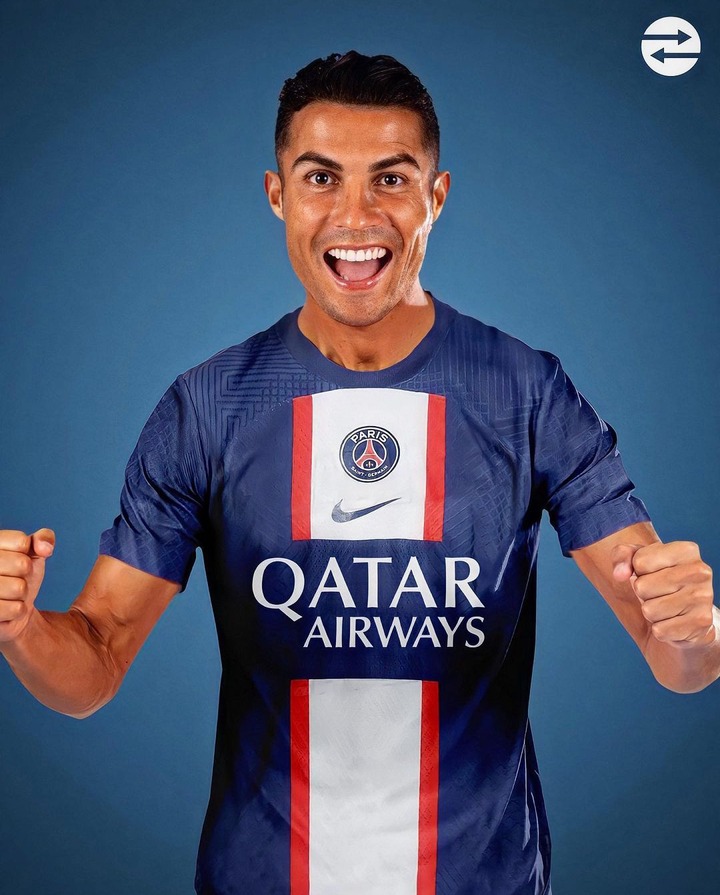 There's a rumour that Neymar is likely going to leave PSG, thus, the club can replace him with Ronaldo. If that happens, then, the possible attack will be Kylian Mbappe, Cristiano Ronaldo, and Lionel Messi.
3. Chelsea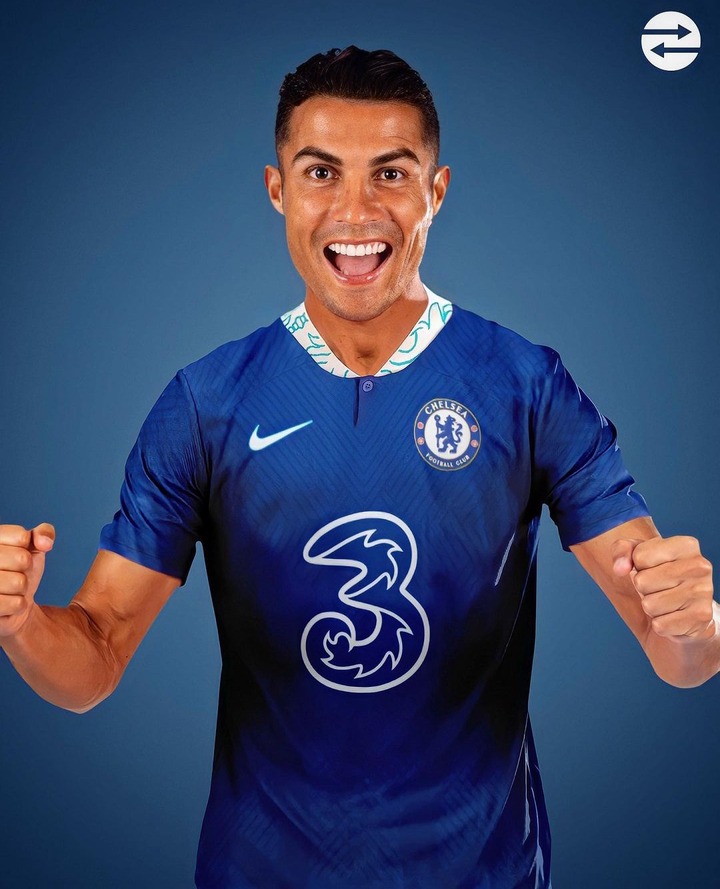 Ronaldo isn't the only player Chelsea is interested in signing. The club also intends to sign either Raheem Sterling or Ousmane Dembele. If any of the two deals are signed, then, the team's attack will be Kai Havertz, Cristiano Ronaldo, and Ousmane Dembele (or Raheem Sterling).
4. Barcelona
The club is currently interested in signing Bayern Munich star, Robert Lewandowski, and at the moment, the deal is yet to be finalized. Thus, if Barcelona includes Ronaldo on the list, and ends up signing the Portuguese, then, the team's attack will be Ferran Torres, Cristiano Ronaldo, and Robert Lewandowski.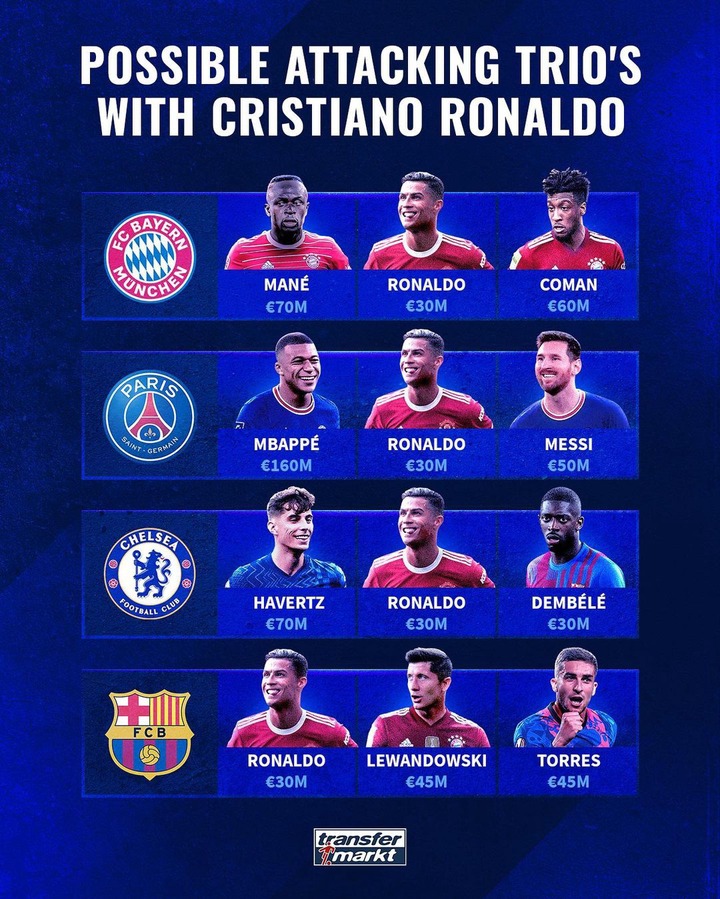 However, no one knows the club that will end up signing Ronaldo this summer, and more precisely, Manchester United isn't interested in releasing the player.