Chelsea Sack List: Managers Sacked By Roman Abramovich in The Premier League Era
Chelsea owner, Roman Abramovic have great reputation when it comes to sacking managers. Chelsea have changed more than nine managers and now they could sack Frank Lampard anytime. Judging from the history of chelsea managers, it doesn't matter what a manager achieve as he would eventually get sacked.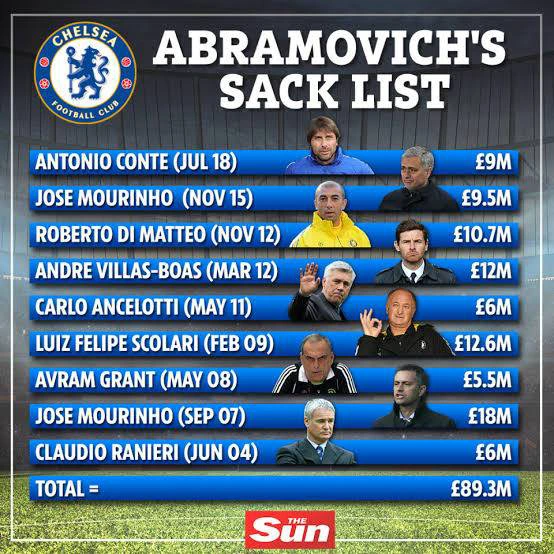 Jose mourinho won premier league with chelsea and yet he was sacked. Roberto Di Mateo was the first and only manager who win the UEFA Champions league for Chelsea, but he was sacked by Roman Abramovic. A lot of managers who coached Chelsea won domestic cups, but it didn't stop Abrahamovic from sacking them.
Claudio Rianeri, Avram Grant, Luiz Felipe Scolari, Antonio Conte, Andre Villas-Boas and Carlo Ancelotti once coached Chelsea team but were sacked by Abramovic. However, frank Lampard's time as chelsea manager is limited, there is tendency that Abramovic is planning to sack him after his consecutive poor performance in the premier league