Chelsea Transfer News: Everything you need to know as Chelsea sets to start their transfer business
2 in, 7 out: 9 names in latest transfer round-up with probability ratings
The market opens on January 2 – here's everything you need to know as Chelsea are set to start their transfer business.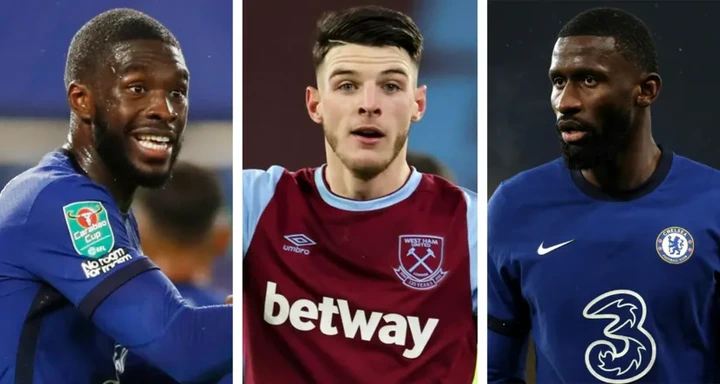 Declan Rice
The West Ham midfielder has for a long time been reported as one of Chelsea's main transfer targets.
In fact, reports claim that he is the only player Chelsea would consider signing in January.
However, his huge transfer fee and the need to offload some players first make a summer approach more likely.
Probability rating: 3/10
David Alaba
The Bayern Munich defender's contract expires in June, which is why he'll be able to talk to foreign clubs from the next month.
His agent Pini Zahavi is reportedly preparing to talk to potential suitors, including Chelsea.
It's hard to see Chelsea going for him right now, though, while they have 5 centre-backs and 3 left-backs.
Probability rating: 1/10
OUTS
Antonio Rudiger
The German centre-back has only played 5 games for the Blues this season.
He's reportedly going to wait until January to make a decision on his future.
Barcelona are claimed to be one of the clubs considering going for him as a low-cost option at centre-back.
Probability rating: 6/10
Fikayo Tomori
The 23-year-old has only played 45 minutes in the Premier League this season.
His talent is still highly rated at the club, but his training levels have reportedly dropped
Chelsea are open to loaning him out, but he might push for a permanent exit instead.
Probability rating: 7/10
Marcos Alonso
The Spaniard has not featured for the Blues since the 'team bus' bust-up with Lampard back in September.
Chelsea hold out for a ₤20m fee which will be hard to get in January.
So, the club might be open to loaning him out to load off his wages.
Probability rating: 5/10
Emerson
Alonso would be the preferred departure in this department but if it does not happen, Emerson might be another option.
The left-back is regularly linked with big Italian clubs but no interest has materialised.
The Italy manager will hope that Emerson will find a way to secure more game time than he receives at Chelsea.
Probability rating: 4/10
Willy Caballero
The Argentine who finished the last season as Chelsea's No.1 has now dropped to being the third choice.
Should Chelsea fail to move Kepa on (as expected), Willy is likely to ask for a move.
He's reported to explore some MLS clubs as an option to continue his career.
Probability rating: 7/10
Olivier Giroud
The French forward had his concerns about the lack of game time at the start of the season.
He's managed to convince Lampard to give him a more substantial role in the team and is now open to staying.
However, if he does not play regularly enough in January, a move cannot be ruled out.
Probability rating: 2/10
Billy Gilmour
The Scottish youngster has just recovered from a serious injury and is being eased back.
Rangers, his first side, are reportedly eyeing a loan move in hope that Chelsea will want Billy to play more regularly.
However, Chelsea are reluctant to let him go as he is viewed as a viable option in midfield.
Probability rating: 1/10