Didier Drogba And Samuel Eto: All Time Head-To-Head Statistics
Didier drogba and Samuel Eto are one of the Africa greatest players. Both players are legendary as they played for big European teams. Both players didn't win Ballon d'or award, but they won several trophies for their clubs. Check out their career Statistics below.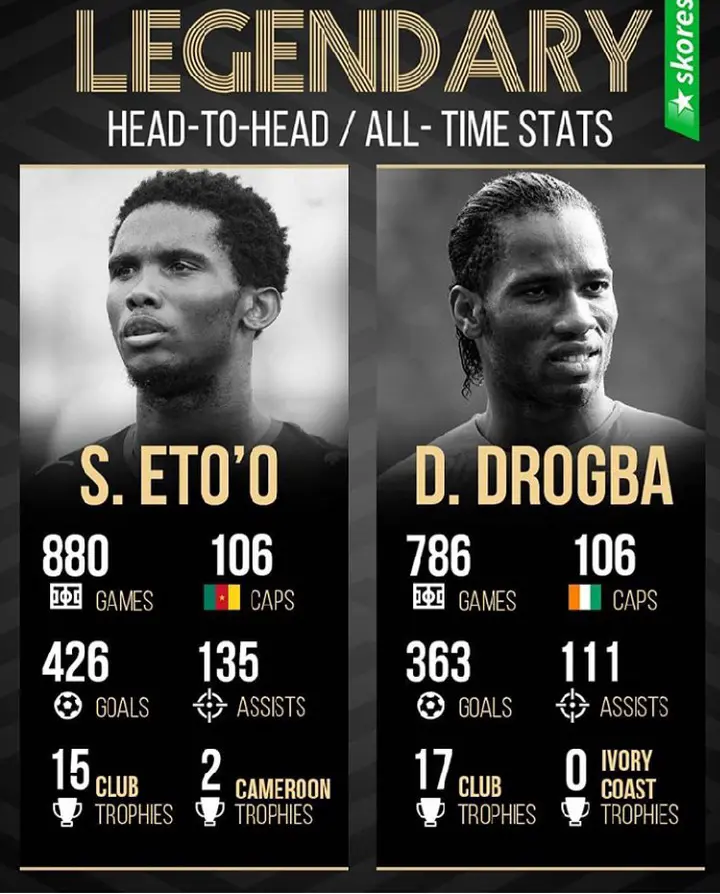 Didier drogba is a chelsea legend while Samuel Eto feature for top clubs like Chelsea, Inter milan and Barcelona. Samuel Eto won 2 national trophies with his country Cameron, while didier drogba didn't win any national trophy with his country Ivory Coast. However, Samuel Eto won 15 club trophies while Didier drogba won 17 club trophies. Didier drogba scored 363 goals in 786 appearances while Samuel Eto scored 426 goals in 880 appearances.
Didier drogba provided 111 assists in 786 games while Samuel Eto provided 135 assists in 880 games. Both players made 106 international appearances for their respective countries. Samuel Eto has 561 goals contribution in his football career, while Didier drogba has 474 goals contribution in his football career. Who was Better player? Drop your comments below. Please like and share to your fellow football fans.