How Marcos Alonso Saved The Life Of A Fan That Collapsed At Watford Stadium
Chelsea left wing-back, Marcos Alonso did something remarkable tonight in their game against Watford at Vicarage road. The game had started before it was stopped after some minutes as a result of the fan that collapsed among the crowd. So the players were ordered to return to the dressing room.
However, it was Marcos Alonso that first recognized the fan among the crowd and the Spaniard deserve huge credit for what he did. Because he was the one that signaled to other medics in the stadium to locate and assist the patient that had collapsed. So the fan will be given proper care as the medics got to the scene on time.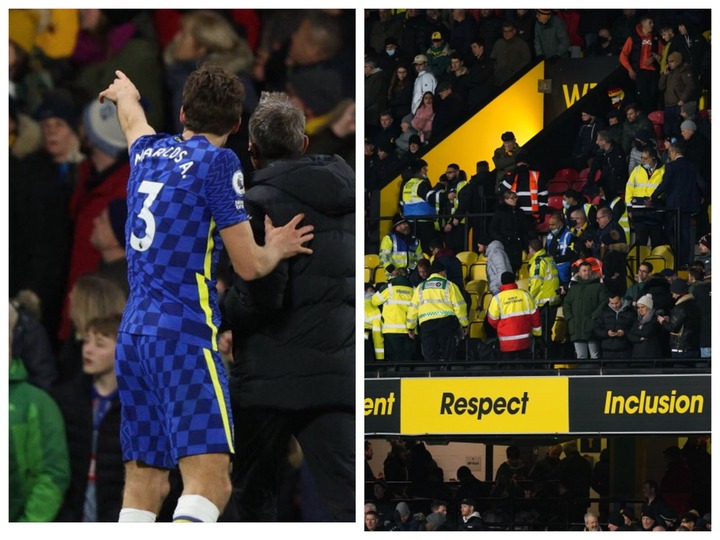 Alonso's ability to quickly catch sight of the fan was well reckoned by football lovers on the internet as he will go into records of the footballers that help save a life while on the pitch.
According to reports (via Chelsea News), the fan after being carried out is said to be having a good prognosis which means there's a high chance that he would survive the health challenge. And if they later tracked back to the people that helped to save his life, Chelsea's Marcos Alonso will be spoken of.
Nevertheless, this will serve as a symbol and lesson to other players that they should try and help any situation they find themselves in as it will make the world a safer place.
Meanwhile, before the incident, Watford started the game very well and forced Chelsea goalkeeper to some early saves as Chelsea had a low start. Thomas Tuchel was seen on the stand cheering and instructing the players to get into the game. Chelsea, Liverpool, and Manchester City are all playing tonight and any slip-up from any of the three teams will open the door for who will top the league table.