Liverpool vs Chelsea Starting XI : Premier League preview, team news, TV channel, stats, prediction, kick-off time #LIVCHE
Liverpool will host Chelsea on Saturday evening in the Premier League matchday 3. The top-of-the-table match between the two English top flights will be a Star-studded match, with both clubs having numbers of in-form players to feature.
Liverpool's Jurgen Klopp and Chelsea's Thomas Tuchel who were both former Coaches at Dortmund will meet at Anfield. The German Coaches have been instrumental in the success of their respective clubs, which includes a 100 percent record in their Premier League matches so far with clean sheets.
Clubs Injury News
Liverpool and Chelsea are both having two players on injury list and have been ruled out of the Anfield showdown. James Milner and Robertson are out of the lineup while Chelsea also will be without Christian Pulisic and Hakim Ziyeck.
Liverpool's Lineup
Liverpool may stick to the previous lineup that defeated Burnley 2-0 against Chelsea on Saturday. However, a need for stronger midfield dominance may be required by the manager. Jurgen Klopp may introduce Thiago Alacantara into the starting 11 as the only change to the previous lineup.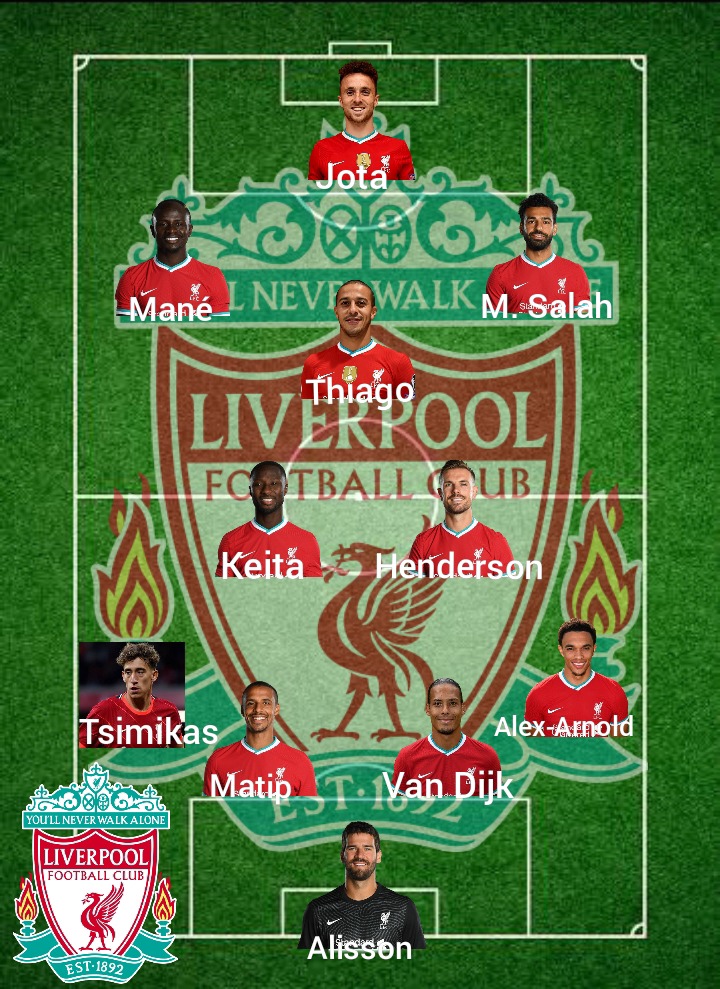 Starting Thiago Alacantara in the midfield will boost Liverpool's midfield operation with the 4-2-3-1 formation system. Tsimikas and Keita will replace Robertson and Milner who are out due to injuries. Sadio Mane, Diogo Jota, and Mohammed Salah are all expected to continue in their top form for Liverpool to overcome Chelsea.
Chelsea's Lineup
Chelsea's defensive and attacking style is expected to continue against Liverpool, with Thomas Tuchel been accustom to the 3-4-3 or 3-4-1-2 formation which has helped the blues in prevailing under the German Coach.
The Operation of Marcus Alonso and Reece James in the left and right flanks has been pivotal to Chelsea's recent wins. The two players contribute to the attacking football of Chelsea and could replicate such to get a victory over Liverpool.
With Chelsea having multiple options on the bench, Thomas Tuchel may need to start Ngolo Kante alongside Jorginho against Liverpool to strengthen the midfield. A midfield without top men will suffer in a top match
Team news, stats and prediction ahead of Liverpool vs Chelsea in the Premier League on Saturday Night Football; kick-off 5.30pm.
Team news
Liverpool left-back Andy Robertson is hoping to make his first appearance of the season against Chelsea.
The Scotland left back was an unused substitute in last week's home win against Burnley after recovering from an ankle injury and Jurgen Klopp must decide if he starts in place of Kostas Tsimikas.
Fabinho is back from compassionate leave following the death of his father and Alex Oxlade-Chamberlain is in contention after the birth of his first child. James Milner (knock) will miss out
Chelsea forward Christian Pulisic will be a doubt for the trip to Anfield after his positive Covid-19 test.
The USA forward missed Sunday's 2-0 win at Arsenal due to self-isolation, but has not suffered any symptoms after testing positive.
Pulisic might not be back in training with enough time to be ready to feature, while Kurt Zouma will not be available amid a possible switch to West Ham and also personal issues that required him to return to France this week
Opta stats
Liverpool have lost just two of their last 13 Premier League meetings with Chelsea (W6 D5), though one of those defeats was in the most recent such game in March.
Only Manchester United (12) have won more Premier League away games against Liverpool than Chelsea (7), with the Blues winning this exact fixture 1-0 last season.
The home side didn't lose any of the first 22 Premier League meetings between Liverpool and Chelsea, winning 17 and drawing five. Since then, the home team has won just a further 12 of their 36 such meetings, with the away side winning 15 times in that time.
Both Liverpool and Chelsea have started the 2021-22 campaign with two wins, two clean sheets and five goals scored. Liverpool have started a top-flight campaign with three wins without conceding twice before (2013-14 and 2018-19), while Chelsea have done so three times (2004-05, 2005-06 and 2010-11).
Liverpool have fired in the most shots so far in the Premier League this season (46), and have the joint-second highest xG along with Man City (4.3). Meanwhile, Chelsea have faced the fewest shots in their two games (10), and have the lowest xG against (0.6).
Liverpool have won their last seven Premier League games, winning each of the last four without conceding and while scoring at least twice. On just three occasions has a team won 5+ Premier League games in a row to nil while scoring 2+ goals each time – Chelsea in August 2010 (6), Chelsea in November 2016 (5) and Manchester City in August 2015 (5).
After losing just one of his first 13 managerial meetings with Chelsea's Thomas Tuchel in all competitions (W9 D3), Liverpool boss Jürgen Klopp has lost his last two against his compatriot. Only against three managers has Klopp ever lost 3+ consecutive meetings in his managerial career – Felix Magath (twice, in 2006 and 2010), Thomas Doll (2006) and Thomas Schaaf (2007).
Diogo Jota has scored in both of Liverpool's Premier League games so far this season, and could become the fourth player to score in each of the Reds' first three games to a Premier League campaign after Robbie Fowler (1994-95), Daniel Sturridge (2013-14) and Sadio Mané (2017-18).
After netting four goals in his first four Premier League appearances against Liverpool, Chelsea striker Romelu Lukaku has scored in just one of his last 11 against the Reds.
In all competitions, Liverpool's Sadio Mané has netted seven goals in 17 appearances against Chelsea, with the Senegalese only netting more against Crystal Palace (12) and Aston Villa (8) during his time in England.