Never compare Sergio Regulion to Ben chilwell. See what their stats say
Ben chilwell is arguably one of the best left backs in football right now.
Chilwell was bought by Frank Lampard from Leicester City for a sum of £50m and has been outstanding at Chelsea.
He has registered two goals since his Chelsea debut and was also outstanding in their match against Tottenham Hotspurs last weekend at Stamford bridge.
Sergio Regulion on the other hand plays for Tottenham Hotspurs and also a good left back but can't be compared to chilwell.
Ben chilwell has registered 2 goals and two assists in Chelsea while Sergio Regulion only has two assists but no goal.
Chilwell has an average of 1.9 accurate crosses per 90 mins while Sergio Regulion has an average of 0.6 crosses per 90 mins.
Benjamin chilwell has an average of 1.9 key passes per game while Sergio Regulion has an average of just 1.4
See photos below;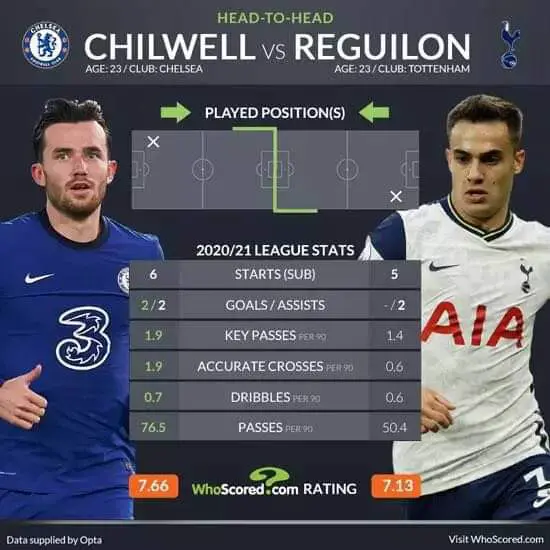 With these stats who do you think is better , chilwell or Regulion . Place your thoughts in the comments section also do like share and follow for more updates.