It's Burnley vs Chelsea in this week's Premier League clash at Turf Moor. While Chelsea secured a confidence-boosting win a few days earlier in the Champions League against Russian hosts FC Krasnodar, they have not won in the Premier League since the return from the International Break. Meanwhile, while Burnley had a few days extra rest, they have also had more time to contemplate their narrow loss to Tottenham at home.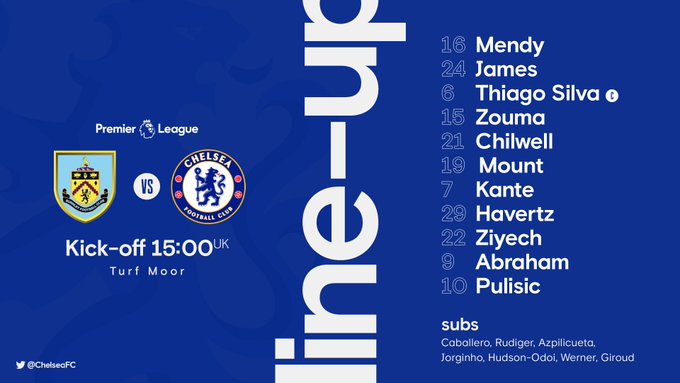 Introduction
It's Burney vs Chelsea and both sides have been pretty underwhelming in recent weeks in the Premier League it must be said. Both clubs will be battling hard to take advantage of one another's inconsistent form and help propel themselves to the right side of the Premier League ladder.
In Europe, the Blues have just come off the back of a morale-boosting win over Russian club Krasnodar but those who watched closely would have concluded that the 4-0 score line was perhaps a bit flattering for Frank's men. In other words, the scores and overall contest were very even for large parts of the game and it took a 2nd penalty late in the 2nd half to help the Blues pull away from the hosts in the final 15 minutes.
While there were plenty of positives to take away from that performance, there were also some insights into how the Blues would need to improve when they returned domestically. Although the Clarets have been in pretty dire form, this could be a problem for Chelsea as their motivation to reverse this poor form will be at an all-time high. Therefore, complacency risk is the big thing for Frank and his troops to safeguard themselves against, particularly as they too have been inconsistent, despite their recent improvement defensively.
What Blues fans will be very keen to see is whether the last 15 minutes from the Krasnodar match can be carried over back in the Premier League, including whether Frank will consider maintaining the 4-3-3 that was used during this period of the game. Frank did mention that some players were looking fatigued and how he will need to count on his squad to play their part so it will be intriguing to see how the Blues line up. Either way, Chelsea fans will want the same recent resilience and concentration in defence that they've gotten used to seeing, but also ensuring it is not at the expense of their attack.
With this in mind, some of the writers have shared their thoughts on how the Burnley vs Chelsea clash will unfold.
RJ (@RJ_Goodthings)
It's Burnley vs Chelsea at Turf Moor in another Premier League clash. In my opinion, gone are the days whereby the 'big' teams could basically have a guaranteed 3 points against a 'smaller' team. This could not be more true during this unusual season so far. Despite the Clarets languishing down in 18th spot, the Blues have no right to consider any team an easy beat given their topsy-turvy form.
Having said that, what has been pleasing in the recent period for Chelsea has been their strong focus on improving their defence. 3 clean sheets on the trot following their 3-3 roller-coaster against Southampton has been very impressive, especially for a team that has been very shaky at the back over the past season.
On the other side of the ledger, their attack is starting to show signs of coming together, thereby striking a better balance between being safe at the back but also potent with the ball. The last 15 minutes against Russian outfit Krasnodar showed a glimpse of what the Blues are capable of when they play with a certain degree of confidence and synergy. The change in system was most noticeable and fans are naturally interested in whether Frank will continue trialling a 4-3-3, or whether he'll revert back to the more commonly used 4-2-3-1, or perhaps even the 3-4-3 if he is concerned with how Burnley may line up. For what it's worth, I'd like to see us stick with the 4-2-3-1 so we have some familiarity and then look to transition to the 4-3-3 in the medium-long term.
For this game, I'm hoping we see the following lineup in the 4-2-3-1 (and maybe look to switch to the 4-3-3 in the 2nd half depending on how the game is unfolding): Mendy, James, Silva, Zouma, Chilwell, Kanté, Kovacic, Havertz, Pulisic, Ziyech, Werner. However, I'm mindful we have some fatigue issues so I'd be comfortable seeing Giroud or Tammy start, and even give Mason a start ahead of Kai.
Either way, I want us to keep tight at the back but look to start the game positively with a high tempo and seek a couple of early goals to quash any belief of an upset. Otherwise, we might make it hard on ourselves as the match progresses and give the Clarets a sniff. All in all, I'm going for a strong performance and a fairly comfortable win in the end. Here's hoping!
Final Score: Burnley 0 – 2 Chelsea
Ben (@CarefreeCFC20)
Chelsea vs Burnley, on paper, looks like an easy fixture for the blues, but this really isn't going to be a cruise for Frank Lampard and his team. Burnley is a very defensively inept side, often being able to shut up shop against bigger teams, with the possibility of hitting a team with a set-piece blow. Chelsea has to be careful in this game or else it could be very difficult. Now Burnley is always going to sit back and try to defend the points, that's the type of side that they are, but this means Chelsea are going to need some creativity to beat the low block. Personally, I think Reece James, Hakim Ziyech, and Christian Pulisic will start with creativity in mind; as those three all offer lots of new ideas to break down the right defence.
In terms of the rest of the team, I see Chelsea starting with a 4-3-3 formation, with Kante as a defensive midfielder and two number 8's either side of him, which I think will be Kai Havertz and Mason Mount. I think starting on the wings will be Pulisic and Ziyech with Werner through the middle. In terms of a score prediction, it all depends on if/when Chelsea get the first goal, as we have seen against Burnley when we have scored first last season, we have ended up scoring quite a lot of goals. We beat Burnley 4-2 and 3-0 last season, down to the fact we scored quite early on. If this doesn't happen this time then we may struggle as Tottenham did against them last time out. I do think Chelsea will find that early goal, through Pulisic which will set things off, and for me I predict, just like last season, a 3-0 win for the blues with goals coming from Pulisic, Mount, and Abraham off the bench.
Final Score: Burnley 0 – 3 Chelsea
Jai Mcintosh (@jjmcintosh5)
The combination of a comfortable mid-week win with the fact that Chelsea has never lost away at Turf Moor is filling me with some rare confidence in the side ahead of today's match. The return of Hakim Ziyech and Christian Pulisic to match fitness will only further Chelsea's chances of getting three points. Equally, a goal for Callum Hudson-Odoi and an assist for Tammy Abraham will, hopefully, have contributed to a happier dressing room.
For me, Chelsea needs to be dominating possession and attacking from the start. We all know Burnley will sit deep and try to catch teams on the break or from set-pieces. With the same back-line that played against Manchester United, I think we will be defensively sound enough to cope, plus the confidence Mendy has added to the defence has been incredible. My positivity for today's game I'm sure will come back to bite me, but without any optimism watching the game wouldn't be quite as enjoyable. Chelsea vs Burnley should (I say should not will) be a relatively entertaining game.
Final Score: Burnley 0 – 2 Chelsea
Tom (@tomcoley49)
'If it ain't broke, don't fix it' is the saying, but Frank Lampard is fast becoming Chelsea's second coming of the famous 'tinkerman'. Whether it be for tactical reasons, injuries or just a change of heart, the Blues very rarely line up the same two times in a row, and I don't think Burnley will be an exception.
But I do think the mentality of the Blues will be similar to what we saw in Russia in midweek, that is, dominate the ball and look to capitalise and create when the opportunity arises. There's too much quality in this team for the goals to not keep following, now that they have started to come. I expect Hakim Ziyech to be vital today as Burnley drop deep, the Moroccan will have to be at his creative and unpredictable best if Chelsea are to break down Sean Dyche's side.
Speaking of, Dyche and his Clarets won't care about possession, looking snazzy or pleasing anyone at Turf Moor as the result is the most important stat from their perspective. This won't be easy for Chelsea, but if Lampard's men can come through this game with the three points, it will be a sign as to just how far Chelsea have progressed in recent times.
Final Score: Burnley 0 – 2 Chelsea