Timo Werner Will Never Replicate Eden Hazard's Magic, But He Can Emulate His Chelsea Numbers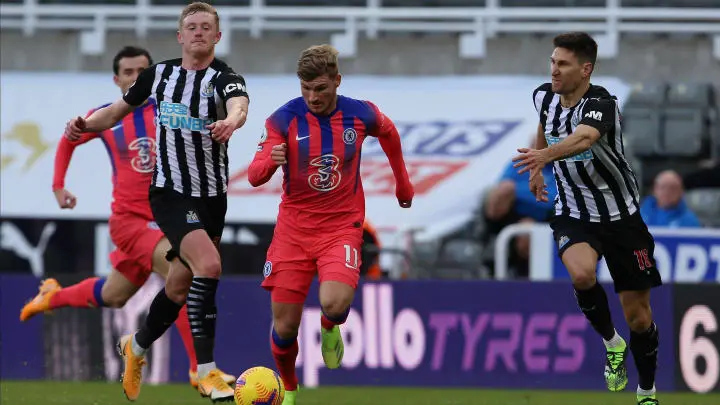 There's no denying that Chelsea's star faded when Eden Hazard finally realised his lifelong dreams of playing for Real Madrid and working with Zinedine Zidane in the summer of 2019.
Having illuminated an often utilitarian Chelsea team for seven trophy-laden years and 110 goals and 92 assists later, the effervescent Belgian was destined for greater things (or so he thought).
That left the Blues with something of a quandary; hamstrung by a transfer ban, the west London club would not be able to replace its talisman for a calendar year (or so they thought). Despite the embargo being lifted in January and a rumoured £150m warchest to unload, the club's hierarchy did all of nothing to remedy the glaring need to replace Hazard's goals and creativity.
Then came the summer, and oh baby, did Chelsea go in – especially in the attacking department. As you may have read, German pair Kai Havertz and Timo Werner followed pre-contract signing Hakim Ziyech through the door at Stamford Bridge.
While those arrivals predictably provoked excitement, on paper it was not initially clear who had the potential to emulate their predecessor; although he had shone in the Champions League, Ziyech was coming from the lowly Eredivisie, Havertz was only 21 years old and it remained to be seen whether Werner's playing style would suit the Premier League.
However, just 13 games in the latter is showing emphatically that he has the ability to replicate Hazard's numbers at the very least. Featuring predominantly off the left – just as the former RB Leipzig man has done this season – the Belgian notched 13 goals and 24 assists in all competitions in his debut season.
Werner already has eight and four respectively, and while he was signed for his goals and won't match Hazard's two dozen assists, he has demonstrated that creativity is the next best aspect of his game.
The 24-year-old has contributed at least ten assists in the past three seasons, both from a central striker role and from the left. That left flank, which Hazard made his own during the best part of a decade at Stamford Bridge, may well turn out to be his best position in Frank Lampard's system should Tammy Abraham's decent form persist.
The comfortable 2-0 victory at Newcastle was the best demonstration of that so far this season, despite Werner missing several chances that even Joelinton would have put away at the other end. We shan't dwell on that for the time being though, but instead focus on his wing play; Werner created three shooting opportunities, played three key passes and completed 31 carries (per FBref), but one moment in particular will resonate.
As the clock ticked into the 65th minute at St. James' Park, there seemed to be a glitch in the matrix. One moment the ball had been rolling tamely across the Chelsea half, the next Abraham was slotting it into the back of the net. Only the slow-motion replay revealed what had truly come to pass; Was it a bird? Was it a plane? Was it 2018/19-era Eden Hazard?
Well, no. Staying true to his nickname, 'Turbo Timo' had collected the ball in his own half before motoring forward, dissecting the mere yards of space between Federico Fernandez and Sean Longstaff and rocketing towards the penalty area. The already eviscerated Magpies defence could do nothing to stop him poking the ball into the path of Chelsea's number nine, who was readily dead-eyed in his finish.
This isn't to say Werner comes even close to Hazard in terms of technique and that indescribable ability to provide joy through his touches and movement, but those eight seconds on the hill high above Newcastle city centre will have brought back fond memories for Chelsea fans of their former number ten at his flying, impish best.
The finger has already been pointed at Werner's subdued displays in Chelsea's two biggest games so far this season, a draw and a defeat against Man Utd and Liverpool respectively, the kinds of games Hazard would thrive in.
While logic dictates that these are early-season encounters and the German will grow into them over time as he acclimatises to the Premier League, a return of five goals and one assist in 26 combined games against the big boys Bayern Munich and Borussia Dortmund during his time in his homeland will not fill supporters with confidence.
By the time Hazard's Stamford Bridge career reached its natural conclusion in 2019, he had 29 goals against the 'big six' across all competitions. So, work to be done for Turbo Timo, but no challenge should appear insurmountable to a lad who would run up mountains as a boy, for goodness sake. Sunday's mammoth top-of-the-table clash with Tottenham will offer an early opportunity to set the record straight.
Werner will never be able to replicate that certain je ne sais quoi that embellished almost every Hazard outing, but if he continues at his current rate (and sticks around) he has every chance of emulating the beloved Belgian's goalscoring and creativity – even if those special moments are scarce. That would be more than enough to secure his place in the hearts of Chelsea supporters for years to come.