Top 5 Highest Goalscorers In The Premier League This Season And Their Respective Goals.
Arguably, this season has come to an end as Manchester City has been announced as the 2020/21 Premier Leaguewinner. Thus, this means that preparations will now be made towards next season and all teams in the league will be making plans on how to be the next winner.
However, based on the records created this season by different players, we will be seeing the top 5 players with the highest number of goals scored this season. Of course, the highest goal scorer has been awarded, and the same with other players with amazing records this season. However, we will be reviewing the records created by some players this season and as such, those with the highest number of goals.
Players with the highest number of goals scored this season are players of Manchester United, Tottenham Hotspur, Leeds United, and Liverpool.
Thus, see the names of the top 5 players below alongside the number of goals they scored this season:
Harry Kane – 23 goals
Mohammed Salah – 22 goals
Bruno Fernandes – 18 goals
Bamford – 17 goals
Heung-min Son – 17 goals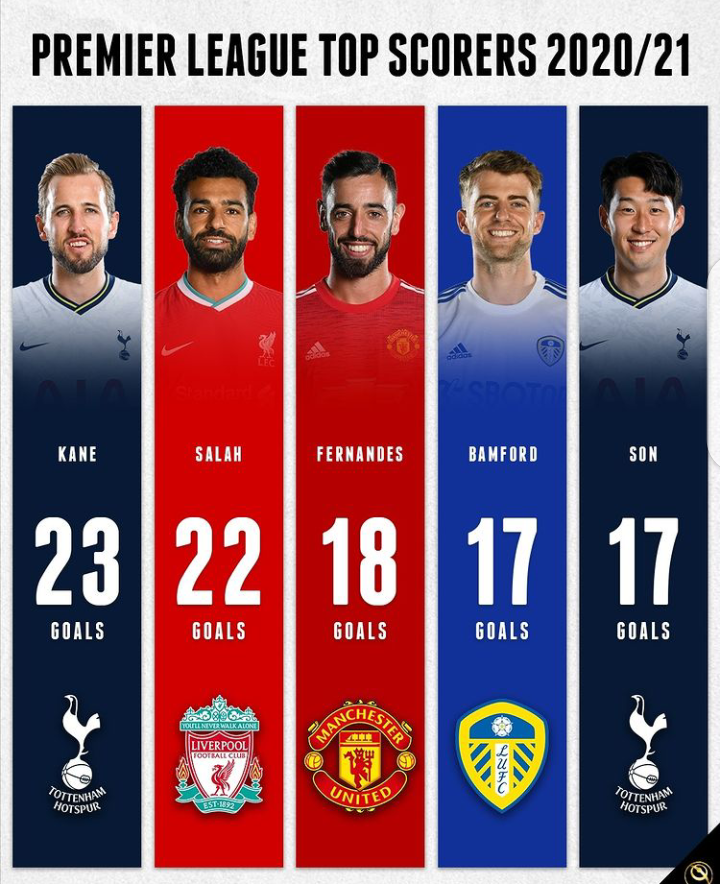 Which of these players had the best performance this season? Who do you think will be the highest goalscorer next season?