Transfer News: Head-to-Head Stats Of Arsenal Targets, Victor Osimhen And Gabriel Jesus
The transfer window is one of the most palpating moments in football fueled by a lot of speculations that surrounds players and tie potential destination.
Arsenal is looking forward to doing business in the transfer window and is on a move to sign a world-class striker that can help them contend for the premier league title next season.
They have one of the greatest coaches in the world that has shown that he can take Arsenal to the next level and he proved that last season by almost clinching a champions league spot ahead of last season. He is highly interested in signing two strikers and they include
1. Gabriel Jesus
2. Victor Osimhem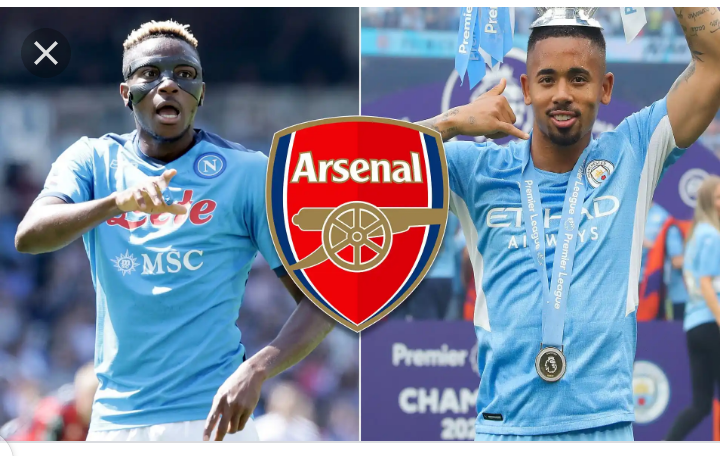 Based on their financial capacity it is only possible for them to sign one of these players and the aim of this article is to compare both.
Gabriel Jesus is one of the finest strikers in the premier league and may have been unlucky to be overshadowed by top-class players. He is one of the few players in the premier league that is celebrated for their pace and also their converting rate.
He will be a huge plus to Arsenal if he eventually signs for the club because he has already adapted to the premier league.
Victor Osimhen on the other hand is simply a joy to watch and the Nigerian international has proven why he is one of the most sought-after players in the world by winning the Seria A young player of the year award.
He is sure to perform well under the turekage of Mikel Arteta
Below is the head-to-head stats of Victor Osimhen and Gabriel Jesus
1. Victor Osimhen
Games played: 152 games
Number of goals: 66 goals
Number of assists: 19 assists
2. Gabriel Jesus
Games played: 287 games
Number of goals: 116 goals
Number of assists: assists