(VIDEO) Zinedine Zidane Revealed He's Not Proud Of The Moment That Ended His Career
Nearly 16 years after his career ended in the most dramatic fashion possible, Zinedine Zidane has revealed that he's not proud of his sending off in the World Cup final.
Over a decade and a half later and few moments in any sport have been as sensational or iconic as the way that Zidane's career came to an end.
The midfielder had led his side to the final against Italy, including one of the greatest individual performances at any tournament in the quarter finals, against Brazil.
Zidane then scored the opening goal in the final, with a Panenka'd penalty against Gianluigi Buffon, showing all the audacity and deft ability that he'd shown throughout his career.
The match was always going to be the Real Madrid's star final game before retirement and it ended early for him when he aimed a headbutt at Marco Materazzi's chest in extra time.
"I'm not at all proud of what I did, but it's part of my past," the three times Champions League winning manager told Telefoot in a recent interview.
#OnThisDay Zinedine Zidane heabutted italy's Marco Materazzi in the chest during the 2006 #WorldCup final. pic.twitter.com/PiweCDb3Ru

— Vintage Football Shirts (@VFshirts) July 9, 2018
The two players had clashed throughout the match, with Materazzi at the centre of the whole game, giving away the penalty that Zizou scored and then equalising for Italy.
There had been rumours of the former Inter Milan defender had insulted the Frenchman's mother or sister, and he finally revealed what had been said a couple of years ago.
"There had been a bit of contact between us in the area. He had scored France's goal in the first half and our coach [Marcello Lippi] told me to mark him. After that first brush between us, I apologised but he reacted badly," the Italian explained.
"After the third clash, I frowned and he retorted: 'I'll give you my shirt later'. I replied that I'd rather have his sister than his shirt."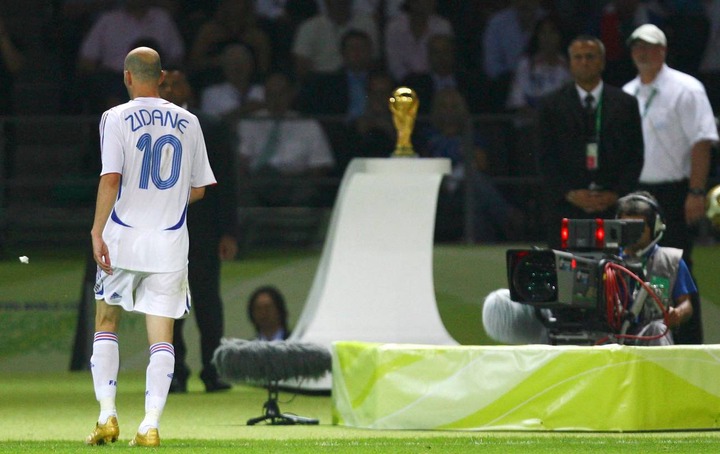 Whilst the final moment of his career was the red mist descending on him, Zidane had shown all the cool and calmness in the world to dispatch his penalty in just the seventh minute of the game.
Many might think the decision was 'madness' but the player pretty much thinks he had no other option.
"I had a second or two to think about how to take it. I had in front of me a goalkeeper who knows me really well so I had to think of something," the 49-year-old said as part of a programme celebrating him on his upcoming 50th birthday.
"In that effort, there was certainly technique, I don't think there was madness. You can miss a penalty but in that moment it is what I had to do